If you follow me on Twitter, then you heard the news that Baby JJ could possibly be here two weeks early. I went to my OB for an ultrasound and to talk about my sugar test as well as my severely low blood count on Monday.  Well, during the ultrasound appointment the tech pointed out that JJ was two weeks more developed than 86% of babies his gestational age.  She estimated according to ultrasound measurements that he's already almost five pounds!!!  That is crazy.
Can you imagine how much bigger he's going to get these last two months?  I mean that's when babies really start to put on their final pounds. So, let's say he puts on two pounds in April and then another two pounds in May.  I'm looking at trying to push out an almost ten pound baby folks!!!  And then think about the carrying around.  My arms are going to beyond tired.
Guess, I better start carrying around and cradling a ten pound bag of sugar to get used to what my baby is going to feel like.  With Moo, I at least had two weeks before she hit the ten pound mark.  JJ is going to come out weighing ten pounds or close to it which means in two weeks he'll weigh 12 pounds or more.  Since, I'm breast feeding, he'll pack on more weight than a formula feed baby in a faster time period.
Anyways, to the hubby and I decided that we needed to go ahead and get a move on getting the rest of the stuff we needed.  So, this morning I got surprised with breakfast complete with fresh orange juice.  I was glad that I didn't have to cook.  And then I enjoyed a nice hot shower minus Moo for a change.  She usually throws a fit if she hears the water running and she's not in there showering with Moo.  She thinks the shower is some kind of magic rain cloud. LOL
After we were all dressed and ready to go, we headed out to do some shopping.  Since my family is taking care of the clothes and toys, we tackled the big items and here are some of the steals we got today:
We got the Graco Kinsey DuoGlider Stroller from Target for $139.99.  That's a whole $10 cheaper than Babies 'R Us.  Needless to say I have scratched this off our registry with them.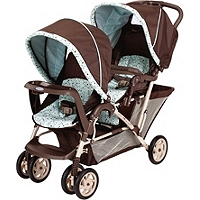 Graco Kinsley DuoGlider
And we all know how much I love co-sleeping with Moo.  So, since we'll most likely be moving a week or two after JJ is born and won't be able to get our king sized mattress until then we decided to get a bassinet so JJ can join us.  We settled on this adorable Nod-A-Way by Safety 1st from Target as well.  It was another great buy at $79.99.
Safety 1st Nod-A-Way Bassinet
And since I hurriedly gave away Moo's baby bouncer seat, we  picked up this adorable How Now Brown Cow Open Top Take Along Swing.  Of course, it's from Target too for $49.99.  It has a three point harness and can handle up to 25 pounds!!  I loved it because we can fold it up and carry it to Grandma's or when Moo goes on in home playdates. 
How Now Brown Cow On Top Take Along Swing
We picked up a Munchkin bottle rack from WalMart for $7.99.
You've also probably heard me talk about how my hubby has been really involved with wanting to pick out a breast pump.  So, we grabbed a Playtex Petite Double Electric Breast Pump System from WalMart for $79.98.  It's a 16-piece kit that comes complete with pump motor, 2 breast cups, 2 Playtex Drop-Ins bottles, 10 Drop-Ins liners, an adapter, tubing, 2 liner rings, 2 bottle nipples, 2 milk storage sealing discs, 2 extra pump valves and of course the instruction booklet.
We also picked up JJ's first outfit that he will be coming home in and taking his newborn pics in.  However, I'll  let that be a surprise as well as my dress for my baby shower.
Overall, I would say that if you're shopping for baby gear Target is certainly the place to go.  And Big Lots is not bad if yours carries big items like double strollers, bassinets and swings.  WalMart has the best prices on baby clothes, bottles, breast pumps and diapers.  So, keep that in mind for future baby shower registries.