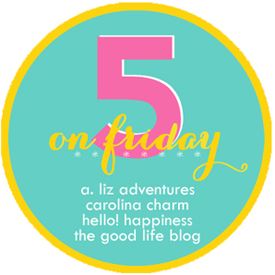 Hope everyone had a great Thanksgiving and got to spend some time with their loved ones!
My dear friend, Christina of Being Mrs Jones, published her first novel!!  It's called
Love & Other Things
.  I'm so happy for her for taking the plunge.  Writing fiction isn't as easy as it may seem.  Writing something to publish for the public to read is hard period because you're putting your talent out there for others to judge.  As writers, we struggle with whether to write for ourselves or to compromise and try to appease our readers.
So, I take my hat off to Christina for taking this huge leap.  I actually got to be a part of her writing process for Love & Other Things.  Let me tell you, this is a book you'll want to read.  I think that every woman who has struggled with finding love or opening herself back up to love after being hurt will be able to relate to Christina's characters.  So be sure to scoop up a copy!
Our Thanksgiving was low key.  I actually had intended to take the kids to the Thanksgiving parade, but after staying up until 4 AM slow cooking our turkey, when I finally did doze off I woke up too late to make it Uptown in time to get a decent parking spot.  No worries, we watched it on the tv.  Look out Macy's, you're not the only one who can put on a good Thanksgiving parade!  Novant Health stepped up and sponsored the parade this year.  I'm grateful that they did because it had been cancelled over the summer due to lack of sponsorship.
The Mr also had to work yesterday.  So, instead of having Thanksgiving dinner, we had Thanksgiving lunch before he left.  I'm hoping next year he'll be off and we'll all be able to make the parade and do more festivities.
Well, looks like we'll be getting a new car sooner than we had planned.  Sadly, we still won't be a two car household though.  Our Kia got attacked by a buck (male deer) when the Mr was driving home from work Monday morning.  Anyways, he ran into the driver side front tire hard enough to run the Mr into a ditch and fold in the tire.  And because we have an older model Kia, the insurance company is saying that they want to just total the car instead of paying for the repairs because basically the whole front of the car would need to be replaced, etc.
If it's not one thing it's another.  Still have joy though because my husband could have been seriously hurt.  There were cars on the road in front of and behind him.  He could have easily ran into one of them or the car behind him could have hit him when he went sliding into the ditch.  Not to mention, we had freezing rain the night before.  The whole situation could have been worst than the car getting messed up and the deer being injured.
One plus side is that we have a SWEET BMW to ride around in from the rental company.  If we could afford it, we'd definitely buy one just like it.  It's roomy, fully loaded and good on gas.
Moo turns 5 this weekend!! I can't believe it.  It feels so surreal because it honestly doesn't feel like five years have gone by already, but I guess it has.  I was thinking of starting the tradition of putting together a slide show for each birthday going forward so that they'll be able to look back on a recap of each year of their childhood.  
Since, most my pictures were on my old iPhone and didn't port over to my Galaxy S4, I don't have many to include for this year. 🙁  Thankfully, that won't be the case anymore because all the pictures on my S4 automatically save to both the phone and my memory card as well as upload online to a private gallery.  Mama learned her lesson.
I'm thinking of cutting my hair again.  I did try experimenting with a few twistouts and bantu knots hairstyles, but they didn't come out so well.  I also need to invest in a decent flatiron because my electric hot comb is dying on me.  It's about time though because I've had it since my freshman year of college.  I also need to find another old school ConAir barrel curler.  
I took mine to New Orleans for my sister's wedding and it's been MIA ever since.  We'll see.  I might just call up one of the my girlfriends to help me put in some box braids and call this hair situation a wrap.